Ask anyone in ASA—becoming a scientist while remaining a Christian requires a lot of questioning.
Most Christians in science have to find a way to reconcile what the Bible literally says with what science tells us about God's creation, but Bob Geddes has faced the opposite challenge. He became a minister after working for fifteen years as a geologist, and upon entering seminary, he had to wonder whether his logical, scientific method-based approach to answering questions and solving problems would be compatible with the more mysterious, subjective role of a spiritual guide and counselor.
Fortunately, God works in mysterious and logical ways, and Bob found that the methods of research and inductive reasoning that he acquired as a scientist were just as useful when he switched from studying minerals to being a minister.
Bob grew up in the Presbyterian church and fell in love with rocks on the stony beaches of Lake Huron, where his family sojourned in the summers. He went to college at the University of Western Ontario for geology, and after obtaining his master's degree with a specialty in glacial deposits, Bob worked for the Minerals Division of Gulf Oil using glacial materials to trace out substances like uranium, gold, and base metals.
After a number of years, Bob went on to do geological surveying and research in Ontario for the Provincial government there. Most of the work with Gulf and the Ontario Geological Survey was done outside, in the harsh, beautiful wilderness of the north. Bob loved it.
Bob also loved God, and though work often took him far from his home church, he started thinking more about his role in the Christian church when an old professor from Western asked him to come explore evolution from the Presbyterian perspective at Knox College, which was near his office.
This was in the 1980's, when a surge of interest in creation versus evolution was running through the public and academic arenas. While holding conversations on science/faith issues in his spare time, Bob started thinking about how people learn things, especially with regard to how they use and interpret the information in the Bible.
"The more we learn about creation, the more we learn about God and how much God loves us. Some of the debate that goes on between science and faith regarding the age of earth, evolution, etc., all comes down to how people use holy scripture. The more we learn about subjects like geology, the more it frees us up to get to the heart of the message behind the stories that are in the Bible," Bob said over the phone.
"For example, take Genesis 1—if we try to tie that too literally to the seven days, we end up in debate, which is not whats its all about. If Jesus wanted to get to the heart of truth, he told a parable, so it makes sense that God's truth would come to us in that form. There are some intriguing parallels between Genesis 1 and what science tells us about how the earth developed and humanity's place in it. So if we accept Genesis as something that has truth behind it, we can learn that not only is creation good, but it's a step-like process, which God put into motion and which took a very long time," Bob said, then added, "God has a great, great patience…"
During those conversations, Bob realized that not only were the topics stimulating and important, he even felt called to switch the arena in which the talking took place. Instead of peering from science into Christian issues, Bob wanted to start from faith and work outward. His church was without a pastor at the time, which provided Bob with opportunities to get involved with congregational leadership. Feeling a general call to service, Bob went back to school (seminary) in 1987.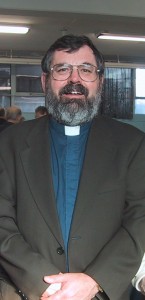 After 20 years as the pastor of South Gate Presbyterian Church in Ontario, Bob Geddes has retired and spends much of his freetime working as secretary treasurer of CSCA (the Canadian sister of ASA). Bob describes the role of the two organizations as "self-help groups" for aspiring and working scientists. "When it comes to controversy, scientists are getting it from both sides," he explained, "There's pressure from Biblical literalists on how to interpret scripture, so they have to restrict what they say about their work in church… but there are also colleagues in the university setting who may be atheistic or see no role for God in the scientific endeavor, and they have to clam up about their faith."
In organizations like ASA, however, people can talk openly about both their work and their Christian life. They can share frustration over prejudiced viewpoints as well as talk about how to unite Biblical teachings with scientific scholarship. "I'm always interested in how people end up working it out for themselves," Bob said of these discussions, "For instance, there are many ways of reconciling Genesis with old earth geology, and over the years, I've continued to develop my thoughts on the matter. I'm intrigued that many, many people have worked it out in their minds, and it's always an individual thing. They compare and take inspiration from the things they read, but they also learn through their own intuiton and a love of nature."
Certainly, the greatest scientists in the world would be remiss if they didn't attribute some of their talent at discovery not just to intellectual rigor, but to little leaps of faith and logic that never make it into their published papers. Einstein, himself, once said, "On the path to discovery, the intellect has little to do. There is a leap in consciousness—call it intuition or whatever you like—and the solution comes to you, and you do not know how and why."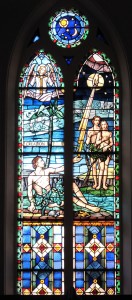 The how and why of all creation deepens in meaning when studied from a Christian perspective, since everything scientists learn helps them reflect on God and God's purpose. Bob illuminated his own wonder, "When we learn what geology is telling us about the age of the earth, in comparison to how long humans have been on the planet—it's a humbling perspective—but at the same time, it's kind of strengthening that we know God came to earth to be with us humble humans and come stay with us. I think about it as a Psalm 8 kind of thing, in which the speaker is looking at the heavens and pondering humanity's existence and how much God loves us."
Admittedly, I had to look up Psalm 8 to get the full effect of Bob's comparison:
"When I look at your heavens, the work of your fingers, the moon and the stars that you have established,
what are human beings that you are mindful of them, mortals that you care for them?
O Lord our Sovereign, how majestic is your name in all the earth."