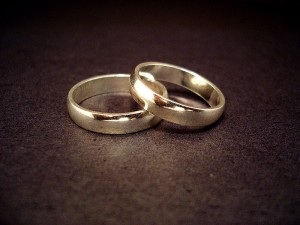 Married couples pursuing two careers face many obstacles.  When both partners work in academia, the situation can look downright bleak.  Due to their limited geographical mobility, some academic couples endure "commuter marriages," living apart for years in different cities.  Results are varied: some have a stroke of luck and land appointments near each other, sometimes even in the same department.  For other couples, one person leaves academia to take a more flexible job and live with their spouse.  In some cases, the couple eventually breaks up under the strain of work and isolation.
Academics are extremely bright people and highly skilled at solving problems.  So why is the "two-body problem" so frequent and so intractable?  Since Ph.D. programs typically absorb most of people's twenties or early thirties, many meet their future spouses while they are students.  From a purely logical standpoint, one could simplify the two-body problem by marrying outside of academia.  But that's easier said than done.  Students spend most of their time with other students.  They have common values and common goals.  They have similar intellects and thirst for knowledge.  They simply make a good match.  Unfortunately, given the dearth of job openings in academia, they face a daunting challenge.
Fortunately, they don't have to do it alone.  The American Scientific Affiliation has dozens of members with spouses in academia. Together, we can share our experiences, exchange advice, and laugh about our shared frustrations.  In the rest of this article, we will explore the experiences of one couple– ASA member Kristen Tolson and her husband Joel.  If you are interested in sharing your dual academic career story, please write in our comment box below.  We can be a great resource for each other!
First, let's introduce Kristen.  She is currently a postdoctoral scholar at Oregon State University in Corvallis, OR and works with Dr. Patrick Chappell in the department of biomedical sciences.  Her research investigates the human body's regulation of sex hormones that cause ovulation in women, sperm production in men, and development during puberty.  The hormone that controls these activities, called gonadotropin-releasing hormone (GnRH), is released in a rhythmic, episodic pattern from the brain, but it is not yet clear what controls the timing of this activity.  Proper functioning of this hormone is critical since it impacts human growth and fertility, and a breakdown in hormone regulation may also lead to diseases such prostate and breast cancer.  Kristen is part of an exciting research field, and the discoveries from the Chappell lab may contribute to improvements in an essential aspect of human health.
In June of 2004, when Kristen attended her friend's graduation ceremony at California State University-Chico, she met Joel, and they felt a connection immediately.  However, Kristen already had plans to move to Dallas to start her Ph.D. program at University of Texas Southwestern Medical Center.  Was it worth dating for only two months before she left? Joel insisted that it was, and after that short period, they began their long-distance relationship. Joel stayed behind in Chico and began working towards a master's degree in History.  After the first year of his program, they got engaged.  One year later, in June 2006, just after Joel received his master's degree in Chico, they got married. Joel moved to Dallas, and for the first time since they started dating, they were living in the same city.
Since Kristen had several more years of graduate school remaining, Joel worked in administration in the Clinical Sciences department at her school and studied Latin in preparation for doctoral studies in his field.  In spring 2010, just as Kristen was wrapping up, Joel was fielding offers from graduate schools.  Kristen was committed to moving wherever Joel would be, so she waited to apply for postdoc positions until it was clear what Ph.D. program he would enter.  It took until April for the University of Oregon to offer him a suitable fellowship, so Kristen had little time to line up a postdoc near Eugene, OR.  Fortunately, she landed a research position at Oregon State University, in Corvallis.
Though they are grateful to be living together, their situation is still far from ideal.  In addition to two hours of driving each day between Eugene and Corvallis, Kristen teaches online courses in the evenings to supplement their meager graduate student and postdoc salaries.  Although they live in the same house, their time together is brief.  Further complicating the matter is that Kristen's research position is funded by federal stimulus money and guaranteed for only one year.
How will Kristen manage her work-life balance?  She maintains, "I love science, but not more than my marriage."  If funding does not come through for her current position, she is open to other possibilities.  She could continue working in a laboratory, but she can also imagine working full-time at an online university.  The latter option is especially appealing as she and Joel think about having kids, since at an online program, her commute time to work would be zero.  Confident that their marriage is their top priority, Kristen and Joel have been flexible with their career development, thus easing the tension that would arise if each of them were to pursue only their "best" job options.  In doing so, the two-body problem continues to challenge but not consume them.